Juvéderm
Conveniently located to serve the areas of Los Gatos and San Jose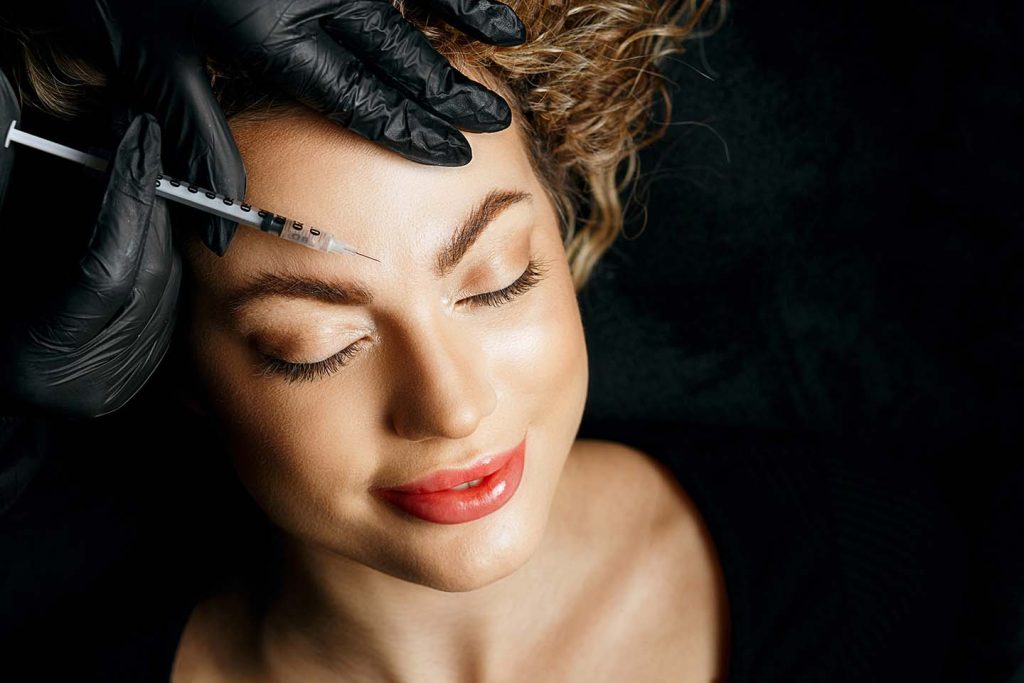 Juvéderm is a long-lasting dermal filler created from hyaluronic acid (HA) gel, a naturally occurring chemical. Juvéderm offers five specially-formulated fillers designed to smooth wrinkles, soften creases, and add fullness to, or augment, the cheeks, lips, and chin. As the popularity of non-surgical aesthetic procedures skyrockets, with 3.2 million patients receiving soft tissue fillers in 2020 alone, [1] more and more men and women are choosing the Juvéderm family of fillers to address their cosmetic needs. Hyaluronic acid gel fillers restore the radiance and fullness of youth, returning volume and diminishing wrinkles. Additionally, Juvéderm works well in combination with complementary procedures for increased outcomes.
Men & women wanting to experience the effects of the #1 selling collection of dermal fillers on the market need look no further than dual board-certified surgeon Dr. Peter Castillo and the expert injectors at Swan Medical. Swan Medical offers a range of treatments designed to increase confidence and reverse the signs of aging for patients in Los Gatos, Davis, and San Francisco. See the results for yourself; schedule a consultation with us here, or call (925) 905-9922.
New and prospective patients should check out our current specials and follow us on Instagram, Twitter, Facebook, and Youtube to learn more about our practice.
About Hyaluronic Acid Fillers
Juvéderm highly-moldable gels use the proprietary Vycross technology platform, which improves the cross-linking efficiency of HA chains. As a result, tightly cross-linked hyaluronic acid chains yield a more viscous, long-lasting injectable with a more significant lift and a natural look.
Furthermore, among the non-surgical rejuvenating and reconstructive procedures available, HA-based dermal fillers are increasingly popular because of the low immune response rate. [2]
Juvéderm fillers are effective for many different applications, [3] including:
Treatment of the glabella, aka the "11s" between the eyebrows
Improvement of mild lateral brow droop (in conjunction with Botox)
Correction of concave tear troughs (lower lids)
Cheek augmentation
Nasolabial fold volumization
Addressing vertical lip lines
Adding volume to lips
Volume loss affecting the labia majora
Whatever the reason, patients will love the immediate results and zero downtime associated with the Juvéderm collection.
Youthful Composition
What constitutes beauty? To find out; first, researchers divided the human face into three sections:
Upper third – forehead and brows
Middle third – midface and nose
Lower third – chin, jawline, and neck
Then, a three-dimensional assessment of these sections allowed clinicians to understand the transformative effects aging has on facial attractiveness. The central facial triangle (eyes, nose, lips, and cheekbones) contributes largely to the perception of beauty. [4] As these key areas lose volume or shift downward due to volume loss, the aesthetic balance contorts. Therefore, the primary goal of facial rejuvenation is to restore a more youthful composite.
Which Juvéderm Filler is Right For You?
Juvéderm Voluma™ XC
Juvéderm Voluma XC is injected deep into the soft tissue of the cheeks or chin to help augment and add volume. While facial structure depends on the underlying skeleton, soft tissues (subcutaneous fat, muscle, and fascia) build facial contours and determine final symmetry. Men & women who are experiencing structural changes due to age will find positive results with Juvéderm Voluma XC.
Furthermore, by addressing the deep tissue of the cheeks, the resulting fullness has a domino effect that "lifts" the other features and restores fullness to balance out the central facial triangle. Additionally, patients wishing to augment the contours of their chin will find Juvéderm Voluma XC a compelling choice.
Juvéderm Vollure™ XC and Juvéderm Ultra Plus XC 
Juvéderm Vollure XC & Juvéderm XC are used to soften moderate to severe facial wrinkles and folds around the nose and mouth. In a clinical trial addressing subjects' nasolabial folds, optimal results were reported on day three and at least six to eighteen months after. Vollure XC and Juvéderm Ultra Plus XC are easier to inject and mold with smoother and more natural-looking results and proven aesthetic benefits. [2]
Juvéderm Volbella™ XC and Juvéderm Ultra XC
Lip fullness is a crucial factor associated with attractiveness, beauty, and youth. Particularly in our modern society, where we continue to emphasize the importance of a plump pout, patients want to increase fullness while addressing the appearance of fine lines around the mouth. Juvéderm Volbella XC and Ultra Plus XC address these concerns by restoring the lips' aesthetically pleasing anatomical structure. Furthermore, all Juvéderm fillers have antioxidant and anti-inflammatory properties and support tissue regeneration to ensure a full, natural look, and results that last up to eighteen months. [5]
Ideal Candidates for Dermal Fillers
Ideal candidates are:
At least 18 years of age
Not experiencing breakouts
Interested in correcting wrinkles and lines and increasing fullness
Not allergic to hyaluronic acid
Not pregnant or nursing
To determine which injectable is right for you, Dr. Castillo and his expert injectors at Swan Medical will carefully study the structure of your face and any expression lines or wrinkles that may be present. In addition, we will inform you of any complementary procedures that can further increase the outcome of your Juvéderm filler.
Personal Consultation
During your consultation, Dr. Castillo or one of his expert injectors will ask about your cosmetic goals. After an initial assessment to determine how best to meet your needs, we will discuss your medical history and answer any questions you have. Your treatment session can be booked immediately following your consultation. Patients in Los Gatos, Davis, and San Francisco Bay Area can schedule a consultation by filling out this form or calling (925) 905-9922.
Preparation
Preparing for dermal filler injections requires very little preparation. However, there are a few things patients may be asked to do:
Avoid taking certain medications, including anti-inflammatories, blood thinners, and vitamin E, as these may cause unnecessary bruising.
Do not apply topical creams that may irritate the skin.
Do not drink alcohol for at least twenty-four hours before your procedure.
Arrive for your treatment with a face free from moisturizers and makeup.
Procedure
Before your dermal filler injection, we will cleanse your skin and apply a topical anesthetic. The specially formulated gel in Juvéderm includes lidocaine to increase patient comfort further. [2] Once preparation is complete, Dr. Castillo or one of his expert injectors will begin the injection process. Using a fine needle and strategic patterns at varying depths, Dr. Castillo or an expert injector will contour and volumize the face while addressing wrinkles and folds. The entire process should take place in under an hour, after which you can immediately resume your schedule.
Recovery
The response to Juvéderm is generally favorable. Patients may experience swelling, bruising, discomfort, or discoloration once the session is over, but these effects are brief and should return to normal quickly.
Additionally, for the first twenty-four hours after treatment, patients should take care to:
Minimize strenuous exercise.
Avoid extensive exposure to the sun or heat.
Avoid drinking alcoholic beverages.
Adherence to these guidelines will increase the speed with which the slight swelling or discomfort dissipates.
What are the Results of Juvéderm?
Patients will immediately enjoy the results of improved contours, a smoother complexion, and an overall youthful appearance. Results are instantly visible and will continue to improve as swelling and redness go down. The benefits of Juvéderm will last for at least six months and up to eighteen months after treatment [2], after which patients are encouraged to make additional appointments to sustain the effect. 
Patients are encouraged to read through our glowing testimonials and follow us on Instagram, Twitter, Facebook, and Youtube to see the beautiful results that await. Also, follow our blog to learn more about the latest innovations in aesthetic solutions.
Complementary Procedures
Dr. Castillo and the Swan Medical team offer an assortment of aesthetic solutions to meet your needs, including:
Vampire Treatments
Utilizing PRP, or platelet-rich plasma, Vampire treatments are a state-of-the-art regenerative procedure to heal and induce the production of healthy new cells using the patient's blood. A Vampire treatment can reinvigorate several areas of the body, not just the face – contact us to find out more!
Hormone Replacement Therapy
Hormone replacement therapy is a non-surgical procedure that uses hormones to help the body regulate itself.
Cost of Juvéderm in Los Gatos and San Jose
Juvederm treatments vary in cost and will be discussed in better detail at your consultation, considering any complementary procedures you choose to include.
FAQ
Where is hyaluronic acid found in the human body?
Hyaluronic acid is found in the extracellular matrix (ECM) of adult soft connective tissues. The ECM is an extensive network of proteins and other molecules that give structure to cells and tissues in the body. [6]
Will I need anesthesia for a Juvederm treatment? 
Juvéderm is a non-surgical procedure so patients can enjoy the results of aesthetic improvement without anesthesia or surgical incisions. Juvéderm gel is infused with lidocaine, but patients will enjoy further comfort during treatment by applying a topical numbing cream.
How soon can I use Juvéderm again after treatment?
Juvéderm fillers last from six months to up to eighteen months. Patients should use their discretion to decide when they are ready to book another treatment at Swan Medical to maintain optimal results.
Is Juvéderm FDA approved?
Yes! The Juvéderm collection is FDA cleared and has been widely studied for safety and efficacy.
References