Labiaplasty
Conveniently located to serve the areas of Los Gatos and San Jose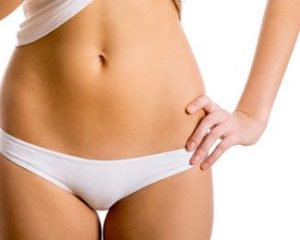 What is labiaplasty surgery? Labiaplasty is a labia plastic surgery procedure that addresses both aesthetic and functional concerns. Elongated or dark labia minora is an aesthetic concern that are common complaints of my patients, however functional issues related to activity and sex can also impact a patient's confience. Patients often complain of irritation from labia hypertrophy, and a large labia being pulled or pushed in during intercourse or getting caught in their clothes.
There are a variety of techniques for performing a labiaplasty. Many plastic surgeons offer "Labiaplasty" procedures and describe a preferred technique. Labiaplasty, however, is not simply "trimming" excess skin or "wedging" out a section!!
The technique for performing labiaplasty depends on what is bothering YOU and YOUR specific anatomy.
The labia are folds within folds which means that they can be continuous with the clitoral hood and the forchet or the lower opening of the vagina. As part of his extensive training, Dr. Castillo has learned that labiaplasty is one of the most detailed cosmetic procedures performed since the labia should be handled delicately and sculpted to achieve a desired look based on the patient's anatomy.
Labia Reduction and Augmentation
The labia majora refers to the outer, larger lips. These can also vary in size and coloration for each The labia majora refers to the outer, larger lips. These can also vary in size and coloration for each person. Depending on the desired appearance or concern, the appearance of the labia majora can be enhanced by a variety of techniques. Often times, the labia majora lose fat over the years leaving a "deflated" or wrinkled appearance that has a tendency to droop. This is called ptosis or drooping due to excess skin.
This can be addressed by either Labial Augmentation to plump and restore a youthful appearance or by Labia Majora reduction to remove the redundant, excess skin to have a more flush appearance for women are looking for a smoother appearance so that they CAN wear certain clothing without being self-conscious of the bulkiness.
Recovery
Most patients can return to work in 1 week following surgery however, patients are advised to avoid exercises, intercourse or tampon use for up to six weeks. Most of the swelling subsides by 6 weeks, which is when the final result can be begin to be appreciated.
FAQ
WHAT IS A LABIAPLASTY?
A Labiaplasty can either address the inner labia minora or the outer labia majora. Most patients looking for a labiaplasty are referring to the inner labia minora. The labia minora is very sensitive to hormone surges such as puberty and pregnancy which cause the labia minora to elongate and darken. All labia are normal variations however patients that are bothered by the appearance or function of the labia may desire a cosmetic procedure to achieve a particular desired look. There are different approaches for labiaplasty and varied interest in the final outcome from simply addressing asymmetry, or having a tucked-in appearance, a Barbie look. The approach and final desired appearance is determined after a thorough exam and consultation.
WHAT IS THE RECOVERY LIKE FOR LABIAPLASTY?
Most patients need Ibuprofen alone and ocassionally may take a stroger pain medication for the first couple of days. Patients will not need further antibiotics after surgery because an antibiotic is given during surgery. For post- op care the patient should apply an ice pack to reduce swelling. Most sutures will dissolve within 6 weeks however most patients can return to work within 1 week. The patient may shower the next day.
AM I A GOOD CANDIDATE FOR LABIAPLASTY?
Patients that are bothered by the appearance of their labia wether because of elongation of darkening of the skin are candidates for labiaplasty, as well as patients that are experiencing problems like pain or discomfort, their skin catching on clothing, and pain during exercise or sexual activity. The labiaplasty procedure can improve the contour and/or size of the labia minora or labia majora and relieve these distressing symptoms.
HOW SOON CAN I EXERCISE AFTER LABIAPLASTY?
We advise that the patient avoids strenuous activity for at least six weeks or longer.
HOW SOON CAN I RESUME SEXUAL ACTIVITY AFTER LABIAPLASTY?
We recommend that the patients refrain from sex for at least 6 weeks after the procedure. The incisions may still be healing even after 6 weeks and the patient should use caution.
WHEN CAN I RETURN TO WORK AFTER LABIAPLASTY?
The majority of our patients are able to return to work a few days after surgery.
WHAT OTHER PROCEDURES CAN ACCOMPANY LABIAPLASTY?
Other procedures that can accompany labiaplasty surgery are a clitoral hood reduction, Labia Majora Reduction or augmentation, vaginoplasty, perineoplasty and other vaginal rejuvenation procedures.
WHAT CAN BE DONE FOR THE LABIA MAJORA?
The outer Labia Majora is another site of concern for many patients because of fat volume loss that occurs over time causing a drooping or deflated appearance. Patients also complain of bother with clothing because the loose skin gets caught in clothing or pulled requiring constant adjustment. The labia majora can be reduced surgically to provide or smoother appearance or augmented to provide a more plump, youthful appearance.