Kybella
Conveniently located to serve the areas of Los Gatos and San Jose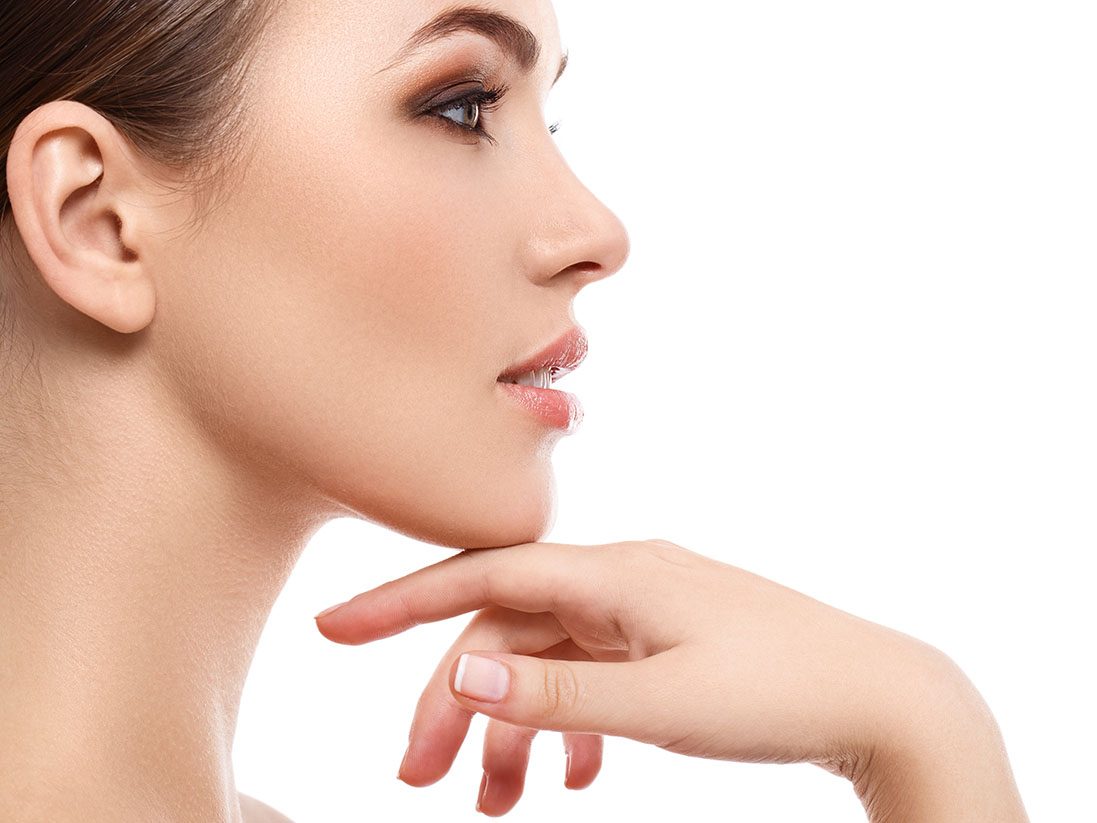 What Is Kybella?
Kybella is an injectable cosmetic that is used to eliminate unwanted fat under the chin. This popular treatment is used to improve "submental fullness," commonly referred to as a double chin. This is a common symptom of aging, and can be exacerbated by weight gain or genetics. However, weight loss and even chin and jaw exercises don't always solve the problem.
Until recently, the only solution for eliminating this troublesome fat was liposuction. Liposuction can be an excellent way to banish fat deposits in many areas of the body, but it's certainly not for everyone. A liposuction procedure can be a perfectly safe procedure when performed by a skilled and experienced surgeon. But for those desiring a less drastic intervention and fast recovery time, Kybella is an excellent solution.
The team at Swan Medical are committed to making women and men feel and look their very best. They're excited to add this novel injectable to the many services that they offer patients in the Davis and San Francisco areas. To learn more about what Kybella can do for your neck and jawline, contact our offices in Los Gatos, CA. Call (925) 905-9922 to schedule an appointment.
To learn more about Dr. Castillo and Swan Medical, follow our blog.
What is Kybella?
As we age and our lifestyle and hormones shift, we can often find bumps and bulges in places that years earlier would have been unthinkable. Often, new deposits of fat don't show up overnight, but gradually accumulate until we come across a dismaying photo or reflection. A double chin can be a dreaded progression or a dreary realization. Despite a healthy lifestyle and strict skincare routine, genetics can, and often will, hold sway.
If you've found yourself with your grandmother's double chin, there's no need for distress (she probably wasn't happy about it either). Today's cosmetic procedures are able to address more common cosmetic concerns than ever before.
Kybella was approved by the FDA for just this purpose in 2015. Since then, it's garnered significant media and scientific attention. (1) In fact, Allure Magazine awarded it the Best of Beauty Breakthrough Award that very same year. (2)
The active ingredient in Kybella is deoxycholic acid (DCA). This is a naturally occurring acid that our body uses to break down fats in the digestive system. It contains a number of unique properties that can double down on a double chin while leaving surrounding tissues unharmed.
How Does Kybella Work?
To better understand how Kybella works, it's good to know a few things about how our (and most other animals) bodies process the fats we consume, which are essential to our health. The bile that our liver produces and that is secreted by our gallbladders contain acids that allow lipids, or fat, to be broken down and absorbed in the small intestine. DCA is one of these kinds of bile acids. (3)
The DCA in Kybella is synthetically derived (not from anyone's liver) and specially formulated in the Allergan laboratories for this specific cosmetic use.
When Kybella is injected into adipose tissue, ie. the fat store that causes a double chin, the DCA destroys the fat cells. The remnants of these cells are then gradually reabsorbed and eliminated from the body. (4)
But wait, there's more: as this acid breaks down fat cells, it also induces a local inflammatory response. This stimulates the body's natural wound healing reaction which in turn ramps up collagen production. Collagen is king! Collagen fibers are essential for smooth, tight skin, as they make up the connective tissue that keeps skin lifted and perky. So, Kybella doesn't just melt away the fat in your double chin, it lifts and tightens the skin too. Interestingly, because DCA's only job is to break down fats, the protein-rich muscle, skin, and blood vessels underneath your chin are able to remain unscathed from this powerful acid. (3)
Benefits of Kybella
There's a lot going on underneath your chin. This area contains nerves, arteries, and glands, most notably the thyroid gland. The neck is one of our most vulnerable and delicate areas. It's also a dead give-away of our age. The texture of the skin and proportions affect our overall appearance and influences others' perceptions about our age, weight, and lifestyle.
Kybella treats fat under the chin with benefits that include: 
No scarring or incisions
No downtime or recovery
Fast procedure
More slender, youthful appearance
Better jawline definition
Tightens skin after fat is eliminated
Gradual, natural-looking results
Personal Consultation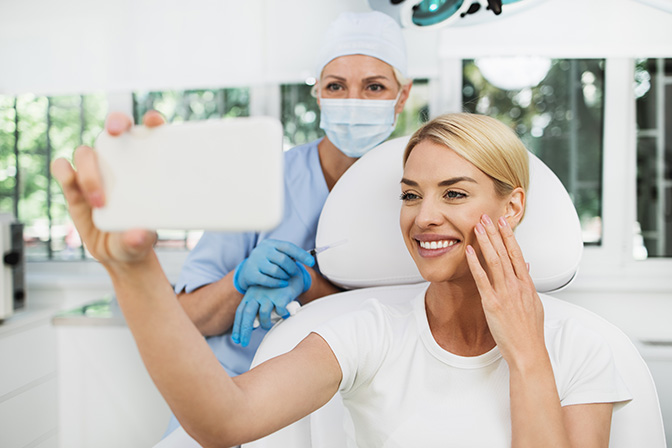 Kybella is a simple treatment, but it's important to make sure that you are a good candidate for these injections to ensure the results you deserve. During your appointment with Dr. Castillo, he'll review your medical history, discuss your long-term aesthetic goals, and examine your chin to make sure that Kybella is right for you. Most patients do require several injection sessions to see the best results from Kybella. Dr. Castillo will be able to create a treatment plan that will specifically address your unique profile for optimal results. Before scheduling your appointment, he and his staff will make sure that you have all the information you need. You'll know exactly what to expect before, during and after your Kybella session.
Procedure
Before your Kybella injections, you'll get a liberal application of topical anesthetic underneath your chin so that you don't feel a thing. Kybella is administered in a grid-like pattern of multiple injections to strategically diminish fat and improve your facial contours. Kybella injections take less than 20 minutes, and afterward, you'll be able to go about your regular routine. As with any injectable procedure, avoid strenuous activity and intensive facial movement for the next two days.
After Your Kybella Injections
Similar to other injections like Botox or Juvederm, patients report mild swelling and bruising as the result of the needle. Kybella may cause slight itching or numbness, but most patients that receive treatment with Kybella notice that any mild side effects diminish within days. In the meantime, an ice pack or ibuprofen can ease any discomfort. The size of the treated areas will gradually lessen as Kybella attacks the store of fat, and the body naturally eliminates the damaged cells.
What are the Results of Kybella?
Doctors and patients alike love Kybella because it is a fast and effective procedure with gradual, natural-looking results that last. After your Kybella injections you'll notice a gradual improvement in your profile. Additional treatment sessions can build on this progress until the pesky pad of fat under your chin has regressed, and you enjoy an appearance with more youthful definition. When you return for a follow up appointment in the next few weeks, we'll be able to gauge your progress and determine if and how many additional injection sessions may be required.
Corresponding & Complementary Procedures
If you're thinking about Kybella, you're probably not afraid of needles! And really, there's nothing to be afraid of when there are so many benefits to reap from today's injectable cosmetics. Dermal fillers provide instant results for those seeking to eliminate lines and wrinkles. With just a few strategic injections, signs of aging are banished from your face for months, and the hyaluronic acid in the cosmetic gets to work restoring collagen for a firmer, smoother complexion that you'll enjoy long-term.
How Much Does Kybella Cost In Los Gatos and San Francisco?
The cost of your Kybella treatment will depend on the amount of cosmetic that is required, and the number of treatment sessions necessary to deliver your desired results. Once Dr. Castillo examines your unique case, he'll be able to determine the best course of action and provide an accurate price for this procedure. To learn more about what Kybella can do for you, contact our offices in Los Gatos, CA. Call (925) 905-9922 to schedule an appointment.
FAQ
What is Kybella?
Kybella is an FDA-approved injectable designed to destroy fat cells below the chin. Its active ingredient is a synthetic version of naturally occurring deoxycholic acid, a bile acid that safely breaks down fat in the digestive tract.
What does a Kybella session feel like?
Your injector will prep the area under your chin with a topical anesthetic- so ideally, you won't feel a thing! Afterwards, you may experience some soreness, bruising or swelling from the pattern of injections. Some patients report mild itching or numbness after their first Kybella treatment, but symptoms usually vanish within a day or two, and subsequent sessions are usually met with fewer side effects. 
Can Kybella fix my "turkey neck"?
Kybella only addresses a deposit of fat under the chin. If you want to address loose or sagging neck skin, another procedure will be required. 
References