SkinTyte
Conveniently located to serve the areas of Los Gatos and San Jose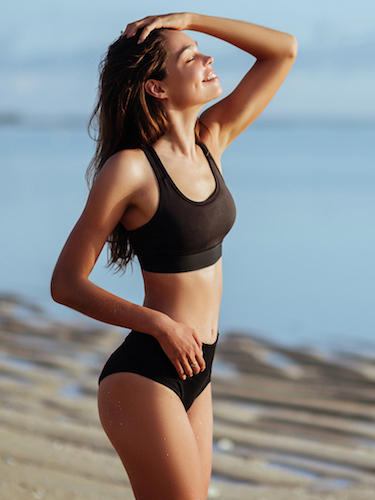 SkinTyte is a non-invasive cosmetic procedure that rejuvenates and firms moderate skin laxity by harnessing the power of infrared-light technology. When the SkinTyte device is applied onto skin it gently pulses infrared light to heat up the deep dermal layers of the skin, promoting new collagen production. This new collagen supplements the existing collagen in the loose dermal tissue, causing the area to tighten, resulting in a more youthful, radiant appearance.[1]
Press Rewind on Your Skin
When we're young, our skin is better able to bounce back from injury. But as we age, our collagen production slows down. Collagen is a fibrous, flexible protein found in 70-80% of our skin.[2] Similar to the structure of a rope, collagen fibrils are made up of three chains that wind together to form a collagen triple helix. When these fibrils combine in the dermis, they become incredibly strong and tensile.[3] Healthy collagen levels have proven to help plump out wrinkles, tighten skin, and promote an overall healthier appearance to the skin. However, usually in our mid-twenties, our collagen production begins to decrease. Many different factors accelerate the aging process in the skin including unprotected UV exposure, poor diet, and high stress levels.[3] Collagen fibrils in aged skin show high levels of degradation and fragmentation because the cells responsible for their supplementation have weakened.[4]
Unfortunately, there are no diet plans or sections of a gym dedicated to helping you regain elasticity in your skin. However, with its skin-safe technology, SkinTyte revitalizes your collagen production, reversing the signs of aging and giving you firmer skin. SkinTyte offers you a chance to be free from lax skin and to see a newer, brighter you! If you have any questions or want to set up an initial consultation with Swan Medical in Los Gatos, California, please call us at (925) 905-9922.
Treatment Areas
SkinTyte is FDA approved to treat the following areas:
Face
Sun exposure can wreak havoc on the skin, especially the delicate skin of the face, which is more sensitive than other areas of the body. Wrinkles around the eyes, bags under the eyes, and laugh lines can form over time. With SkinTyte, the newly formed collagen smooths out uneven areas and tightens skin, erasing the signs of wrinkles and lines.
Jawline
Men in many societies and cultures desire a prominent, angular jaw. It is the mark of strength and masculinity. However, loose skin may be hiding a contoured jawline from the world. With Skintyte, the infrared technology can tighten, form, and uncover your natural jawline.
Chin
The dreaded "double-chin" formed by loose, excess skin under the chin is a trouble spot for many patients. They wish to have a sculpted, more defined chin. When our skin increases in laxity, the tissue in the lower third of our face loses volume, which leads to the depletion of definition in our jawline.[5] To counteract this, Skintyte can restore your skin's elasticity and pull the tissue tighter to your face's structure. This process will eliminate the sight of a double chin and refine the definition in your jawline.
Arms
After a weight loss journey or just as a side effect from aging, you might notice loose skin hanging from the upper portion of your arms. This skin usually rests above the elbow around the triceps and is tough to target. Triceps exercises work to firm up the muscle itself, but not the surrounding skin. With SkinTyte, we can target the skin tissue and contour tighter arms.
Thighs
Many people who have recently lost weight may find that they have skin hanging from different areas around their thighs. This loose skin can be just above the knees, just below the groin, or on the outer part of your legs. Many patients report negative feelings about their appearance, and discomfort from skin chafing as they walk. Or some say they wish bathing suits, dresses, and skirts fit more flattering to their legs. With Skintyte, we can zero in on your unique area(s) of concern and tighten any loose, excess skin.
Abdomen
For many people who have recently lost weight, loose skin surrounds their abdomen. The abdominal muscles could be defined, but they're hidden beneath the skin. Or maybe you are a new mother who wants to get rid of loose skin you acquired after giving birth. This can be an extremely difficult area to improve, as core exercises don't help tighten loose skin. But SkinTyte can tighten and smoothen the abdominal skin, promoting a younger, more contoured appearance.
Benefits of SkinTyte
Safe For All Skin Types
While other laser treatments are not approved for all skin types, SkinTyte is. Other laser treatments may affect areas of pigmentation on a person's skin if the correct laser or calibration isn't used. However, with Skintyte, the infrared technology is safe and effective to use on all skin types, and there is no need to worry about scarring, bruising, or loss of pigmentation.
Non-Invasive
While many other skin rejuvenating procedures can take up most of the day, with SkinTyte you can undergo the treatment on your lunch break. With the fast-acting infrared applicator, Skintyte can be done in as little as 30 minutes. No anesthesia or incisions are made, so no downtime or recovery is required after the treatment.
If you are reading this and can't wait to see the skin-tightening benefits of SkinTyte for yourself, please contact us to speak with us and set up a consultation today!
Personal Consultation
After you've scheduled your initial consultation at our Los Gatos office in California, Dr. Castillo or one of our expertly trained nurses will review your medical and surgical history, noting any medications you are currently taking. Then, we will listen to your story and aesthetic goals. We will examine your skin and the areas you'd like to treat. Whether it be under your chin, the back of your arms, or the inside of your thighs, we check to see if SkinTyte is a viable solution to achieve your desired results. If SkinTyte is right for you, we will give you a detailed set of preparatory instructions for the day of your SkinTyte treatment. If you are on the fence about whom to choose for your SkinTyte procedure, be sure to read over reviews of Dr. Castillo's work.
Preparation
As Skintyte is a cosmetic procedure that targets deep dermal layers in your skin, it is vital to take extra caution with how you treat your skin before your procedure. While following the preparatory instructions given to you in your consultation is also important to:
Avoid exposure to sunlight.
Stop taking blood-thinning medication such as ibuprofen or aspirin.
Stop applying retinol.
If you take vitamin A or Accutane please cease use six months before the Skintyte procedure.
Make sure to shave the area, so there is no hair present on the day of the procedure.
Procedure
During your SkinTyte procedure, we will place a SkinTyte applicator on the target areas. Then for the next 30 minutes, the applicator will send gentle pulses of infrared waves into that area, rejuvenating and revitalizing the deep dermal layer, promoting a resurgence of collagen in that specific area. Our patients say they experience minimal to no pain during the treatment.
Recovery
For the next 30 minutes following the treatment, the skin in the treatment area may display subtle redness. but this should subside in the next half-hour. Avoid direct sunlight or UV rays and apply sunscreen to the treated area. The beauty of Skintyte is the fact that there is no swelling, bruising, or scarring after the treatment.
Results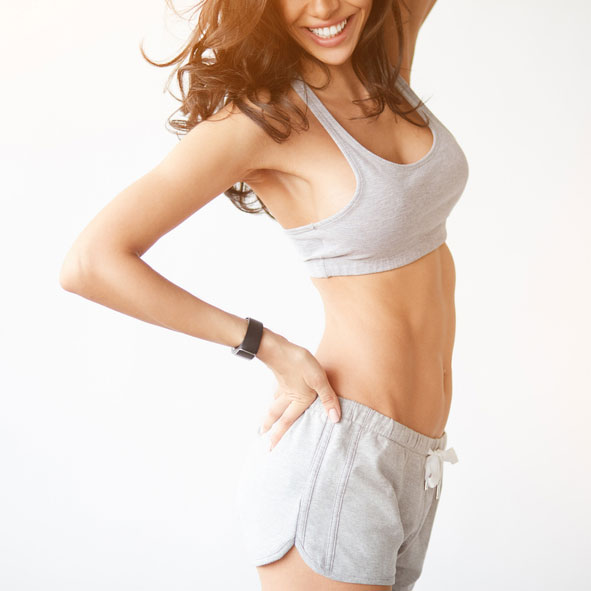 After the first couple of sessions with SkinTyte, you will begin to see incredible results. Tighter contours, smoothed out wrinkles, no more sagging skin. New collagen takes about four months to alter the appearance of the treated area. The results from SkinTyte will last up to 2 years. To maintain the wonderful results, it is imperative that you take special care of your skin. As always, high SPF sunscreen and daily skincare are crucial. Regular quarterly treatments are recommended to maintain benefits.
Corresponding & Complementary Procedures
CoolSculpting
While Skintyte targets troublesome hanging skin, CoolSculpting targets pesky pockets of fat cells by exposing them to sub-zero temperatures. This process is non-invasive and strictly affects only fat cells, so no other tissue is harmed in the process. After the fat cells are frozen, they get naturally passed out of the body.
Injectables
Much like SkinTyte, injectables offer you a way to erase wrinkles and fine lines. However, with injectable fillers like Juvéderm, you can also volumize certain areas like your lips or laugh lines and crow's feet. At Swan Medical, we offer many different types of injectables that target specific areas of the body and face. Contact us to learn more about our injectables and many of our other services. 
References