Non-Surgical Hair Restoration
Conveniently located to serve the areas of Los Gatos and San Jose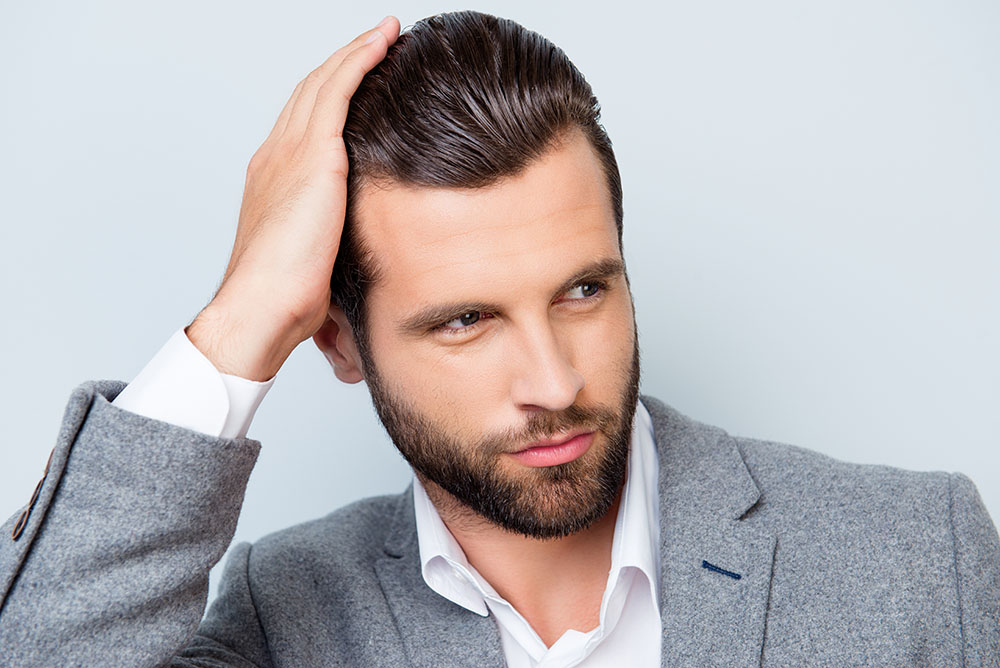 Hair restoration without surgical intervention is a convenient and cost-effective way to achieve a fuller head of hair. We can lose our hair for many reasons, from aging to genetics to the medications we take. And when hair does become noticeably thin, it's often a traumatic experience.
Surgeries like follicular unit extraction (FUE) can achieve good results, but these procedures are lengthy, uncomfortable, and often very costly. Thankfully, there are many non-surgical options to improve hair density, bolster thinning patches, and improve self-esteem.
Minimally-invasive solutions to hair loss include blood plasma treatments, tailor-made hair restoration supplements, and nutrient-rich dietary supplements..
Dr. Peter Castillo, a leading specialist in hair restoration therapy and vitality, offers individualized treatment plans for patients with hair loss issues. Find the right treatment for you at Swan Medical. Contact our Los Gatos office to arrange a personal hair restoration consultation with Dr. Castillo by calling (925) 905-9922 or by completing a form on our website.
About Hair Loss
Hair loss is often difficult to come to terms with. For men and women, androgenetic alopecia occurs thanks mostly to genetics. At any age, hair loss can be distressing. In both, the condition may cause feelings of embarrassment, self-consciousness, and even depression. If you're starting to notice thinning hair, you may wonder why it's happening.
Reasons for Hair Loss
Genetic Predisposition
Hormonal Change
Medical Conditions
Certain Medications
Nutritional Deficiencies
Aging
Stress
Our bodies regulate hair growth and shedding. The hair on our heads is called terminal hair, which is thicker and darker than vellus hair (also referred to as "peach fuzz)." There are several stages of hair growth, known collectively as the hair cycle. However, if this cycle is disrupted, hair will thin over time if the rate of shedding exceeds the rate of growth. In cases of androgenetic alopecia, without swift intervention, hair may be permanently lost. But with non-surgical hair restoration, patients can encourage new hair growth and restore a natural-looking, healthier head of hair before this happens.
Hair Fact: Terminal hair loss due to androgenetic alopecia affects up to 50% of men and women after puberty. (1)
The Hair Cycle
Did you know that hair grows at a rate of 0.35 mm (0.01 inches)/day ? You may also be interested to find out that we shed around 100 hairs every day. (2) There are three distinct phases of hair growth, the anagen phase (growing phase), catagen phase (transition phase), and the telogen phase (the resting phase) after this, the hair falls out, which is sometimes known as the exogen phase. In a person with no hair loss issues, around 90% of hair on their head is in the anagen phase. (3) But for people with thinning hair, this is not the case.
Hormones, the Immune System, and Hair
Cells in the hair follicle control the growth of a tough protein called keratin, the biological material that hair is made of. The hair follicle is highly susceptible to hormonal changes. In the anagen phase, the hair follicle cells divide to regenerate new hair. (4) With androgenetic alopecia, hair follicles drastically shrink over time, and eventually stop regenerating terminal hair because of changing hormone levels . Multiple studies show that excess testosterone and dihydrotestosterone (DHT)causes hair loss in men and women. (5) However, both too much and too little testosterone can result in hair loss.
Another condition, alopecia areata, is caused when the immune system mistakenly attacks the hair follicle, inhibiting hair production. It is also thought that hair loss due to stress is caused by the hormone cortisol. (4) Non-surgical interventions for hair loss encourage hair regrowth, and help patients maintain thicker, healthier hair.
Swan Medical offers free virtual hair loss consultations. Find out more about setting up an appointment here.
Non-Surgical Hair Loss Treatments in San Francisco, CA
If the idea of surgery or follicular unit extraction (FUE) just isn't for you, a non-surgical treatment could be the answer. Swan Medical gives patients an array of non- and minimally-invasive options, the details of which are below.
ABUNDANCE Hair Formula
ABUNDANCE is a daily dietary supplement that provides essential nutrients for hair growth and retention. Two individualized formulas contain minor differences, tailored to the male and the female metabolism respectively. ABUNDANCE supplements harness the power of AnaGain NUTM, a unique, water-soluble extract from the pea shoot (Pisum sativum) and a combination of other beneficial ingredients.
AnaGain NuTM contains L-arginine and biotin, two nutrients known to support healthy hair growth.  It also stimulates the production of noggin (NOG), a protein that makes the resting phase of the hair cycle shorter, and fibroblast growth factor-7 (FGF7), a cell type that encourages keratin formation. 
CLINICAL STUDY RESULTS – UP TO 37% REDUCTION IN HAIR LOSS
100mg of AnaGain NuTM taken daily showed 34% reduction in hair loss after 1 month and 37% reduction of hair loss after two months.
ABUNDANCE Key Ingredients
Hydrolyzed Collagen: Encourages collagen production for hair strength, growth, and elasticity
Hyaluronic Acid: Important for moisture retention in the body
Saw Palmetto Fruit Extract: Helps to block DHT production in the skin
Ashwagandha: An adaptogen that is used to reduce stress and free radicals
Probiotics: For a healthy gut, nutrient retention, and a strong immune system
Experience beauty from within with daily ABUNDANCE for Women, and ABUNDANCE for Men at Swan Medical.
Hair Fact: Pea shoot extract is proven to have antioxidant and anti-inflammatory properties essential for supporting hair growth. (2)
Autologous Conditioned Plasma
Autologous conditioned plasma or ACP is a minimally-invasive treatment that supports hair restoration. It is also used in other procedures to help the body heal. Dr. Castillo extracts a small amount of blood from the patient's arm, then spun in a centrifuge to separate it into its component parts. The plasma is then isolated, and contains growth factors that play an important role in healing and cell growth. Platelets are small but essential blood cells in plasma that contain bioactive proteins. When applied to the hair follicles, these proteins stimulate new hair growth. Studies indicate that male and female participants had effective positive results with ACP. (6)
ACP treatment is low-risk for adverse reactions because it uses the patient's own blood, and can be completed in as little as 30 minutes. And although ACP is not suitable for advanced hair loss, it is a good treatment option for patients whose hair shows signs of progressive thinning.
Learn more about ACP treatments here.
Hair Fact: Studies indicate that ACP may help to restore hair density in patients with alopecia areata. (7)
Sermorelin With Glycine for Hair Loss
Sermorelin and glycine are two essential metabolism-supporting substances. And when combined, they form an effective way to attain healthier, more radiant hair and better overall health. Moreover, sermorelin and glycine treatment can:
Strengthen Nails
Improve Skin Quality
Increase Muscle Mass
Improve Energy Levels
Aid Healing
Sermoraline is an amino acid-based substance that stimulates the pituitary gland in the brain to release growth hormone-releasing hormone (GHRH). Growth hormone plays a key role in metabolic function and research indicates that it has a profound effect on hair growth. (8) Glycine is both a neurotransmitter and an amino acid and has a multitude of roles in the body. It is an anti-inflammatory, an antioxidant, a tissue protectant, and an immune system agent all rolled into one.
Sermoralin with glycine is an injectable treatment that is administered via a small needle. The standard dosage is injections 5 days a week with a two day break. With this combination treatment, patients can support new hair growth and gain vital overall support for the body.
Learn more about Sermoralin with Glycine treatment here.
Bioidentical Hormone Replacement Therapy (BHRT)
BHRT is a way for patients to restore balance to a dysregulated metabolism and a marked decline in hormone levels as age progresses. In women, menopause symptoms can include hot flashes, vaginal dryness, mood changes, and weight gain, while in men, testosterone depletion can cause substantial hair loss, a decline in muscle mass, reduced desire for intercourse, and erectile dysfunction.
Losing hair is also an unfortunate side-effect of aging for women, and, like male hair loss, genetics play a substantial role. But where male hair loss occurs above the forehead, at the temples, and on the top of the head, hereditary hair thinning in women happens across the entire scalp. Optimizing the body's hormones whether it be thyroid or declining sex hormones, restoring ideal levels results in supporting hair follicle functionality and healthier hair growth. Learn more about increasing vitality with BHRT here.
Personal Consultation with Dr. Castillo
If you need a non-surgical way to promote new growth, and support your health and wellbeing throughout the aging process, arrange a personal consultation with Dr. Castillo. At our office in Los Gatos, he will meet with you to discuss the details with you in depth. He will then determine which type of non-surgical hair restoration treatment is most suitable for you. Call us directly at (925) 905-9922 or complete this form to book your appointment with us.
Know what to expect from your first visit by reading our new patient guide, and stay up-to-date with our latest procedures by reading Dr. Castillo's blog.
References